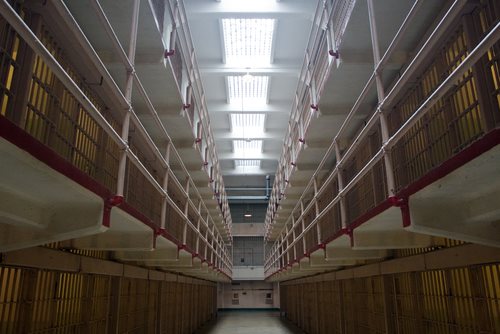 Duval County Jail is located at 500 East Adams Street in Jacksonville, Florida, and is officially referred to as the John E. Goode Pretrial Detention Facility. Duval County Jail authorities can be contacted at (904) 630-5747. The Duval County Jail inmate population is composed of juvenile offenders, suspects charged by the federal government, people charged but not yet tried, offenders sentenced by the State of Florida, and offenders sentenced by Duval County.
People who wish to visit a Duval County Jail inmate are advised to refer to the Sheriff's Office website, which maintains the official visitation schedule. When visiting the Duval County Jail, moreover, visitors can note that it is located behind the Police Memorial Building, and that the other detention facilities maintained by the Duval County Sheriff's Department are the James I. Montgomery Center, at 4727 Lannie Road, and the Community Transition Center, at 451 Catherine Street, both of which are also in Jacksonville.
A single visit to a Duval County Jail inmate can last for up to two hours during the week, and during the week will be reduced to a half hour. Inmates can be visited on one day of the week. The allowable day for visitation is determined according to an alphabetized system, based on inmates' last names. Visitors to the Duval County Jail under 18 years of age can only enter under adult supervision, and all visitors who are 16 or older must show government-issued ID for admittance. On school days, children cannot visit the Duval County Jail prior to 2:30.
Comments
comments