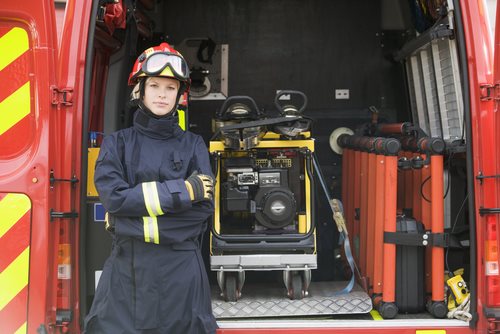 The Florida city of New Smyrna Beach must pay a former firefighter nearly half a million dollars after a six day sexual harassment trial and unanimous jury verdict.
After enduring years of sex-based workplace hostility—hostility which culminated in being fired from her job—Melissa Smith first filed a complaint with the Equal Employment Opportunity Commission.  When the Commission, which must choose cases carefully due to limited funding, rejected the case, she initiated a civil suit against the city of New Smyrna Beach using a private attorney.
This week, jurors awarded her $200,000 for emotional distress and $244,000 as compensation for back wages that she would have earned on the job if she had not been fired.  According to the terms of the verdict, Smith may also get her old job back or be awarded front pay by the judge.
According to Smith's lawsuit, firefighters in New Smyrna Beach created a hostile work environment by subjecting her to repeated harassment and verbal abuse based on her sex.  One supervisor even told Smith that he wanted her to "get pregnant so I could have you as my new secretary instead of having you fight fires."
The lawsuit also says that even the Fire Chief, Michael Coats, was involved in establishing the hostile workplace environment.  Smith says that she was told by the chief that women did not belong as firefighters, and that it would be up to her to prove otherwise.  At a later date, he said women should be "in the kitchen" rather than working for the fire department.
Smith also says that harassment from other coworkers included being sent naked photographs of a firefighter who also tried to invite her to strip clubs and made lewd advances.  Another lieutenant referred to working with two female personnel as "babysitting two girls."  She was also told that she could be suspended for bringing tampons to work.
After making several complaints about staff members of the New Smyrna Beach Fire Department, Smith says that the department and the city began to retaliate against her.  She was denied training that male employees were given, and was suspended after using profanity—something she says that the rest of the department's male employees did on a frequent basis.
The jury in Smith's case ignored the city's contention that Smith had been fired for other causes, choosing instead to believe Smith, who claimed the charges used to fire her had been trumped up as a result of her sexual harassment allegations.
Source: uscourts.gov
Comments
comments