Shipment of Lead-Contaminated Toys Seized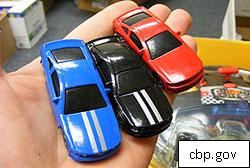 On November 26, 2012, officers with Customs and Border Protection (CBP) and the Consumer Product Safety Commission (CPSC) announced they seized products on multiple ships that entered a Jacksonville, Florida port on November 14. The federal officers found almost 24,000 toys with lead levels above federal standards. Some of the toys also contained safety violations, and several shipments of counterfeit toys were found as well.

The value of the shipments was estimated around $220,000.

Allen Gina, CBP's assistant commissioner for international trade, stated: "The concerted targeting efforts of the Commercial Analysis and Targeting Center and the vigilance of CBP officers at our ports of entry ensures that toys are safe for children and their families and add to the joy of the holiday season as intended."

The CBP and CPSC work together to check ships that potentially contain unsafe imported toys. The CPSC has permanent employees that work at the Commercial Analysis and Targeting Center (CTAC) in order to stop unsafe products from reaching the hands of consumers. CTAC combines resources from multiple government agencies, encourages communication between companies and government bodies, and routinely engages in inspections.

Carol Cave, the CPSC Director of Import Surveillance, expressed optimism over the efforts of the CPSC and cooperating government agencies: "We actively target hazardous children's products throughout the year. Cutting edge joint programs, now in place with CBP, can give U.S. consumers more confidence that products on our shelves are safe."

The CBP operates under the Department of Homeland Security. Apart from keeping terrorists and foreign weapons outside of the United States, the CBP protects borders and official ports of entry. The joint efforts of the CBP and CPSC specifically target products that do not meet health and industry codes within the United States.

Source: Customs and Border Protection
Comments
comments